X6 Proton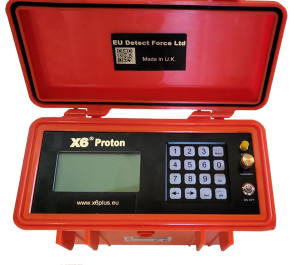 It works by measuring the precession of hydrogen protons in a magnetic field. In the sensor, filled with a liquid containing hydrogen, these hydrogen protons are arranged in an irregular state before being forcibly polarized by the instrument. When a polarization signal is artificially added to it, the proton will do precession.
The magnetic field measurement accuracy of X6 Proton magnetometer is ±1nT, and the resolution is as high as 0.1nT, which fully meets the requirements of the "High-precision Ground Magnetic Measurement Work Regulations" issued by the original Ministry of Mines.
Features:

Five advantages

1.Range reach 20,000 nT ~ 100,000 nT. Apply worldwidely.

2.Competitive with imported instruments in accuracy and stability

3. Including base station mode, running point step measurement, GPS coordinate recording

4.Computer gene
.
Main technical parameters of the instrument
Measuring range: 20,000nT~100,000nT Measurement accuracy: ± 1nT
Resolution: ± 0.1nT
Allowable gradient: ≤5,000 nT/m
Base station measurement interval: 6 to 60 seconds, can be set
GPS positioning accuracy: <2.5m
Storage data: daily change mode: not less than 45 hours (when the typical reading interval is 6-60 seconds); point measurement mode: 100,000 measurement points readings.
Working temperature: -10℃~+50℃
LCD display: 240×240 graphic LCD with backlight
Communication interface: USB
Electricity Source: DC7.4V 5200mA Built-in rechargeable lithium battery can work continuously for 20 hours in standby
Host: Dimensions: 270mm×110mm×223mm Weight: 2.5Kg
Probe: Dimensions: Ф74×150mm Weight: 0.8Kg